Professional Massager
The top choice among discerning individuals around the world for over 30 years! Thumper Maxi Pro is the original percussion massager. With eight massage spheres, variable power and weighing 7 lbs., the Maxi Pro easily delivers a full-body massage in 5 to 8 minutes, with virtually no effort.
Personal Massager
The Thumper Sport is a conveniently priced, portable, "feel good" massager, designed specifically for home use. It was developed for active individuals who need a relaxing massage after their exercise. It is ergonomically designed for easy self-use and comes with two sets of massage spheres to customize your massage. Weighing only 3 lbs., it is ideal for the office, gym, home or anywhere you can plug it in.
Single Sphere Massager
Verve is the latest addition to the Thumper® line of massagers; an ideal tool to help in your quest to stay active. This single sphere massager is perfect for home use. It lets you target precise areas – areas you can only reach with a single head.
Professional Portable Massager
The same quality and performance hundreds of thousands of users have trusted for over 20 years. The Mini Pro is a robust, heavy duty, full strength massager in a personal, portable size. With two massage spheres and weighing only 3 lbs., Thumper Mini Pro delivers the strongest percussive massage available in a self-use model. Three electronically controlled power settings allow the user to adjust your massage.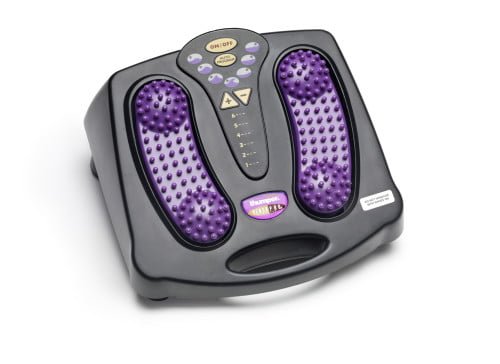 Lower Body Massager
Rated the best lower body massager in the world, the Versa Pro is ideal for runners and people who spend long hours on their feet. The Versa Pro is a perfect complement to a fitness and wellness program. With six speeds, seven programmed workouts and 184 acu-pressure nodes, the Thumper Versa Pro will deliver the most effective lower body massage.
Horse Massager
The Equine Pro is the preferred choice for world-renowned equine teams. It is used throughout the world to massage dressage, racing, and show horses. Its added power of percussive action is ideal for a strong massage. This massager offers a ground fault protection device so it may be used outdoors.